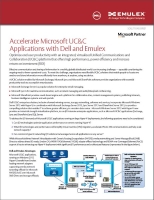 Accelerate Microsoft UC&C Applications with Dell and Emulex
Ethernet adapters with SMB Direct over RoCE support can accelerate file storage I/O by up to 82% and reduce I/O response time by up to 70% for Microsoft UC&C applications running in Hyper-V clusters.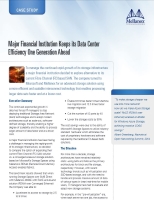 Major Financial Institution Keeps Its Data Center Efficiency One Generation Ahead
Major bank leverages Microsoft's Storage Spaces over RoCE to manage rapid growth of its storage infrastructure, solving bottlenecks and enabling higher performance at 50% of the cost.
RoCE Advantages over TCP/IP Demonstrated at Microsoft Ignite 2015
Windows Server clusters using RoCE compared to TCP/IP showcased drastically improved performance during a Microsoft Ignite 2015 demonstration. With RDMA enabled Ethernet adapters, the server achieved about twice the throughput, half the latency and around 33% less CPU overhead.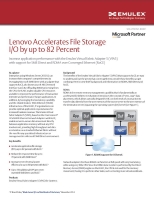 Lenovo Accelerates File Storage I/O by up to 82 Percent
With RoCE supported I/O connectivity, transaction intensive and performance hungry data center applications, such as financial, content delivery, Web 2.0 and data mining, are accelerated for higher business effectiveness that can translate to increased customer satisfaction and revenue.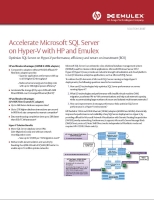 Accelerate Microsoft SQL Server on Hyper-V with HP and Emulex
When using Network Attached Storage (NAS) to reduce I/O time, RoCE dramatically improves Microsoft SQL Server performance running in Hyper-V clusters by bypassing the host TCP/IP stack and reducing data copies.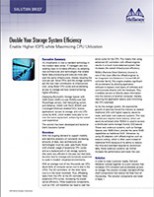 Double Your Storage System Efficiency
Leveraging RoCE interconnects in conjunction with advanced storage virtualization technology and enterprise servers provide a superior alternative to TCP/IP-based networking by:
Delivering 15% more IOPS
Increased CPU efficiency by over 50%
Reducing power consumption by achieving more jobs per second over the same infrastructure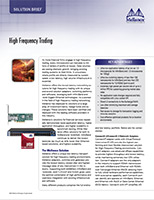 High Frequency Trading
Every microsecond can translate to millions of dollars of profits and losses for firms that engage in high frequency trading. RoCE solutions for financial services repeatedly demonstrate lower application latency, higher throughput and greater scalability for increased performance and seamless integration with existing Ethernet infrastructure and software.