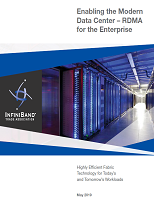 Enabling the Modern Data Center – RDMA for the Enterprise
InfiniBand Trade Association booklet (2019). This booklet is written for data center architects, IT managers, Chief Technology Officers and Chief Information Officers—key technologists and decision makers for the enterprise. RDMA in the Enterprise Data Center provides a fresh look at I/O in the data center.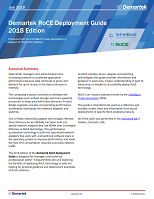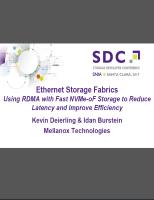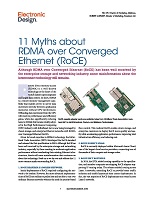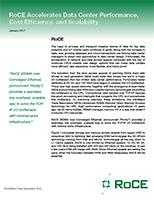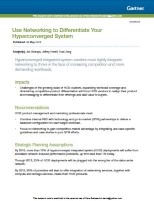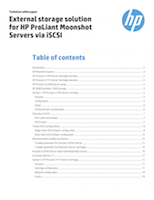 External Storage Solution for HP ProLiant Moonshot Servers via iSCSI
This white paper outlines some key configurations to provide external storage solutions for HP ProLiant Moonshot Server Cartridges over iSCSI, including RDMA over Converged Ethernet (RoCE) utilization. The configurations outlined in this paper have been tested by HP for deployment and feasibility.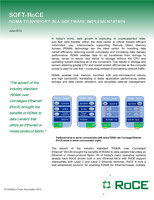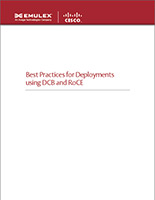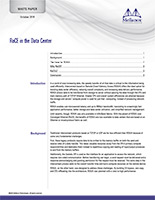 RoCE in the Data Center – Mellanox Technologies
Interconnects based on RDMA are ideal for boosting data center efficiency, reducing overall complexity and increasing data delivery performance. With the advent of RoCE, the benefits of RDMA are now available to data centers that leverage Ethernet infrastructure.
Glossary
Advanced Technology Attachment (ATA)
The Small Form Factor (SFF) Committee develops ATA standards.
Data Center Bridging (IEEE 802.1)
A set of standards-based extensions to Ethernet local area networks for use in data center data environments, mainly used with clustering and storage area networks. The following has been adopted as IEEE standards:
802.1 Qbb – Priority-based Flow Control (PFC) provides a link level flow control mechanism that can be controlled independently for each frame priority. The goal of this mechanism is to ensure zero loss under congestion in DCB networks.
802.1 Qaz – Enhanced Transmission Selection (ETS) provides a common management framework for assignment of bandwidth to frame priorities.
802.1 Qau – Congestion Notification (QCN) provides end to end congestion management for protocols that are capable of transmission rate limiting to avoid frame loss. It is expected to benefit protocols such as TCP that do have native congestion management as it reacts to congestion in a more timely manner.
802.1az – Data Center Bridging Capabilities Exchange Protocol (DCBX): a discovery and capability exchange protocol that is used for conveying capabilities and configuration of the above features between neighbors to ensure consistent configuration across the network.
Direct Memory Access (DMA)
A feature of computerized systems that allows certain hardware subsystems to access main system memory independent from the central processing unit (CPU).
Internet Engineering Task Force (IETF) Develops and promotes voluntary Internet standards, primarily for the standards that comprise the Internet Protocol Suite Internet protocol (TCP/IP).
InfiniBand® Trade Association (IBTA) Founded in 1999 and is chartered with maintaining and furthering the InfiniBand™ specification.
Internet Wide Area RDMA Protocol (iWARP) A network protocol that implements remote direct memory access over for efficient data transfer over Internet Protocol networks.
OpenFabrics Alliance (OFA) Founded in 2004, OFA is chartered to deliver an open source, unified, cross-platform, transport-independent software stack for RDMA and kernel bypass.
Remote Direct Access Memory (RDMA) RDMA is the remote memory management capability that allows server-to-server data movement directly between application memory without any CPU involvement.
RDMA over Converged Ethernet (RoCE) Pronounced as "Rocky" A network protocol that allows remote direct memory access over a converged Ethernet network.