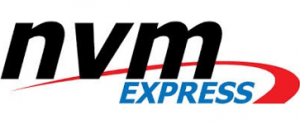 NVM Express (NVMe) technology is quickly being recognized as an innovative, high performance interface for solid-state drives (SSDs) as well as newer persistent memory solutions. NVM Express, Inc.developed the standard to define a new storage interface protocol that optimized non-volatile memory storage system performance, namely in PCIe-based SSDs. At its core, NVMe helps eliminate the data throughput and latency bottlenecks within local storage systems caused by traditional SAS and SATA interfaces that are based on legacy SCSI command stacks, which were originally designed to support spinning hard disks drives.
The enterprise storage industry defined this new interface to remove latencies and unlock application performance with new storage architectures. Server vendors quickly adopted NVMe devices intended for applications requiring high efficiency and low latency. The next step is to extend NVMe's low latency and high performance beyond the server and across the network to access remote storage. Due to the performance demands of NVMe, high performance and low latency networking is required.
To solve this issue, the NVMe community developed an NVMe over Fabrics (NVMe/F) specification to allow for flash devices to communicate over RDMA fabrics, including InfiniBand and RDMA over Converged Ethernet (RoCE). Remote Direct Memory Access (RDMA) is known to reduce network latency and enable higher CPU utilization through hardware offloads. With NVMe/F support for RDMA, remote NVMe access across a network can experience the same low latency as local attached NVMe.
2016 is gearing up to be a significant year for NVMe/F as the industry anxiously awaits its addition to the NVMe standard. To underscore RDMA's impact on NVMe/F, I've highlighted below two recent industry presentations that provide excellent overviews of this development.
NVMe Over Fabrics Will Radically Change Storage and Networking – Storage Visions Conference 2016
Rob Davis of IBTA member company Mellanox Technologies recently presented on behalf of the IBTA at the Storage Vision Conference 2016 in Las Vegas as part of the event's emerging storage technologies track. He covered NVMe/F and how the technology will transform the storage and networking industry overall. Specifically, Rob provided an update on both the emerging NVMe/F protocol as well as the high-performance network types that support it, including InfiniBand and RoCE. He explained why NVMe/F depends on RDMA transports and how it will affect RDMA's market adoption overtime.
To reference the complete slide deck, click here.
How Ethernet RDMA Protocols iWARP and RoCE Support NVMe over Fabrics – SNIA Webcast   
The Storage Networking Industry Association (SNIA) hosted a free webcast in January focused on NVMe/F and its need for low latency RDMA fabrics. David Fair of the SNIA Ethernet Storage Forum and John Kim of IBTA member company Mellanox delivered a brief overview of the technology and why it is expected to take advantage of Ethernet RDMA-capable protocols, such as RoCE. Attendees were treated to a tutorial on how RDMA-capable protocols work as well as considerations when deploying them in NVMe-based systems.
For additional information, view the SNIA webcast in its entirety here.