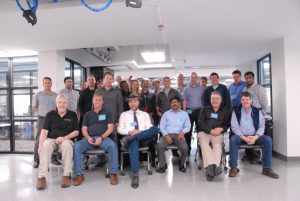 It's that time again! Having finalized the RDMA over Converged Ethernet (RoCE) test results from Plugfest 29, the IBTA is pleased to announce the availability of the new RoCE Interoperability List. Designed to support data center managers, CIOs and other IT decision makers with their planned RoCE deployments for enterprise and high performance computing, the latest edition features a growing number of cable and equipment vendors and Ethernet test speeds.
In April 2016, Plugfest 29 saw nine member companies submit RoCE capable RNICS, switches, QFSP, QFSP28 and SFP28 cables for interoperability testing. This is an encouraging sign for the RoCE ecosystem as more and more vendors begin to offer solutions that are proven to work seamlessly with each other, regardless of brand. Furthermore, the new list now features 50 and 100 GbE test scenarios, which complements the IBTA's existing 10, 25 and 40 GbE interoperability testing. This expansion gives RoCE deployers confidence in knowing that as they integrate faster Ethernet speeds in their systems, their applications can still leverage the advantages of tested RDMA technology.
The RoCE Interoperability List is created twice a year following bi-annual IBTA-sponsored Plugfests, which take place at the University of New Hampshire InterOperability Lab (UNH-IOL). The IBTA Integrators' Program, made up of both the InfiniBand Integrators' List and the RoCE Interoperability List, is founded on rigorous testing procedures that establish compliance and real-world interoperability.
The InfiniBand Integrators' List, which features InfiniBand Host Channel Adapters (HCAs), switches, SCSI Remote Protocol (SRP) targets and cables, will be available soon via the IBTA Integrators' List page. Additionally, mark your calendars for Plugfest 30 – October 17-29, 2016 at UNH-IOL. Registration information and event details will be available on the IBTA Plugfest page in the coming month.